Flexagon is a Guernsey-based sound artist and musical instrument collector. He is an experienced DJ, music producer, sound engineer and composer.
Much of Flexagon's recent music is location-orientated and focusses on unique settings. His latest album Towers 1: Inaccessible was released in February 2023. Part of his ongoing Towers project inspired by the fortifications, structures and architecture of his island home.

As a DJ, Flexagon is known for his long eclectic and psychedelic sets spanning multiple genres. Equally at home playing ambient and chillout as he is with house, techno and psytrance. His beginnings as a club DJ in the mid-90s provided years of experience playing varied sets to mixed crowds. Around this time he fell into the world of Goa and psy trance parties. As a punter at first and then as a DJ. This psychedelic music was the ideal afterhours alternative to clubland at that time. In Guernsey, this is the style of music Flexagon is best known for.

As a producer, Flexagon's music was originally rooted in psybient and psytrance. But it has become increasingly esoteric and wide-ranging. Moving into ambient, downtempo and minimal realms. Along with this has come the opportunity to compose for orchestral instruments. His first piece scored for nine string players and piano had its premiere performance in 2018. A piece for string quintet and spoken word is due to have its first performance in autumn 2023.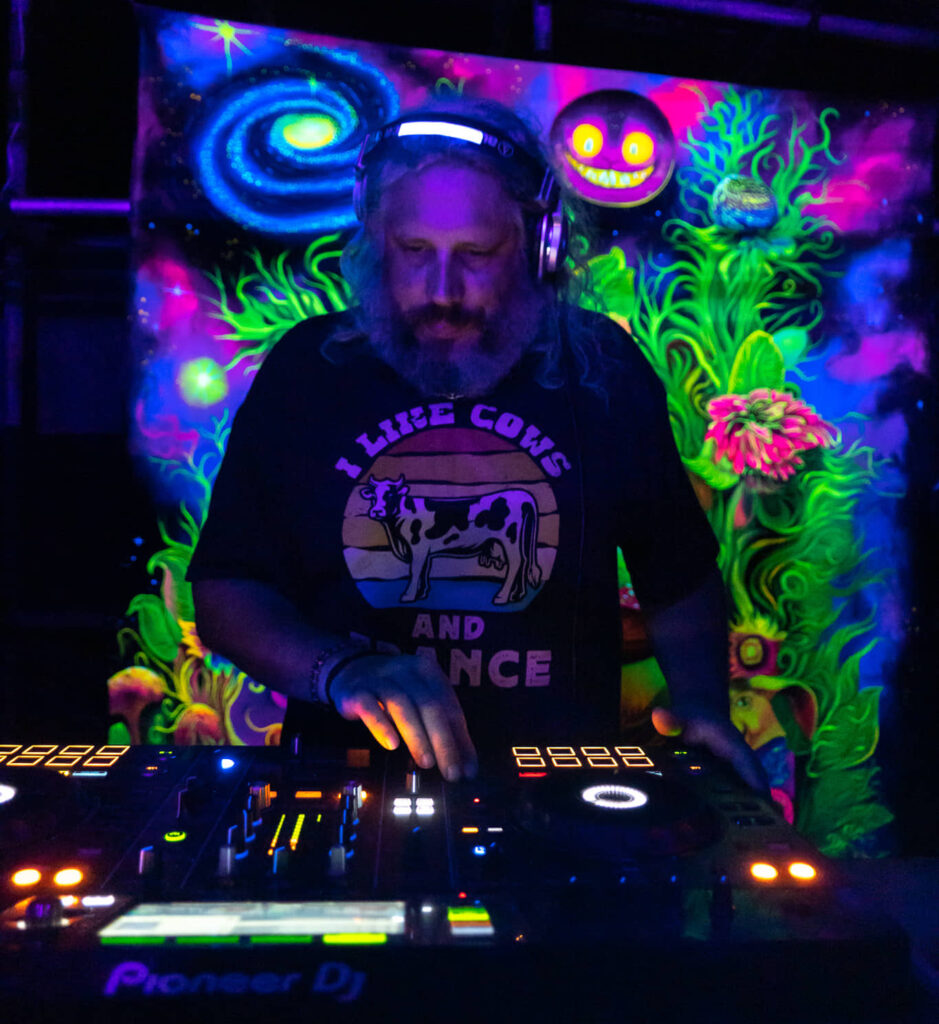 2020's album, 7 Nocturnes East, is a series of ambient and found sound pieces. All inspired by and using location recordings of Guernsey places at night. The album was released in January 2020. Supported by the Guernsey Arts Commission. 7 Nocturnes East had an accompanying visual and video art exhibition. This featured the work of seven local artists at The Greenhouse, Guernsey Museum.

Flexagon took part in the Sounds for an empty house project in 2021. Run by the Welsh art collective Plas Bodfa. His track Exploration 1 uses sounds from Katherine Betteridge's recordings of the house. In her case this included a violin, her voice and a tuning fork.

In March 2022, Flexagon collaborated with fine artists Bridget Spinney and Monika Drabot on Ghost Net. Based around a large, abandoned trawler net that was pulled out of the sea by Guernsey fisherman. The exhibition – Capturing moments of transience, magnificence and wonder in nature, threaded with the insidious scourge of plastic – at Guernsey Museum's Greenhouse gallery features his interactive sound installation. Flexagon used sound bites from popular culture with abstract musical motifs made with rubbish cleared from Guernsey's coastline by the Clean Earth Trust. Triggered using motion sensors placed around the gallery, the resulting combination of sounds and music was never the same.
His track PALAOA Dreams was released in May 2023, part of a project by Cities and Memory reimaging some of the little-heard sounds of the polar regions.

Flexagon's work with other musicians and music creators includes remixes of work by Continuum, Sephira, Blakalaska, Citizen-X and Buffalo Huddleston. He was the first artist to officially remix a track by tribal industrial band This Morn' Omina. The song Drifting (Into the Light), written and released in collaboration with Mike Mienke of Buffalo Huddleston, had airplay on BBC Radio 1 and BBC 6 Music.

Flexagon has also released his own electronic arrangements of two minimal classics – Arvo Pärt's Spiegel im Spiegel, and Opening from Glassworks by Phillip Glass.

An active member of Guernsey's varied music and festival scene, Flexagon is no stranger to playing in the UK. He has performed DJ sets at Noisily Festival, Triplicity, Inertia, Elemental Productions and Psyberdelica, and regularly played long DJ sets at London's sadly now defunct InSpiral Lounge in Camden.